Getting your business noticed is one of our top priorities. Through our sponsorship packages, website ads, newsletter ads, magazine ads, and social media your business can expand its reach to grow your customer base and your influence.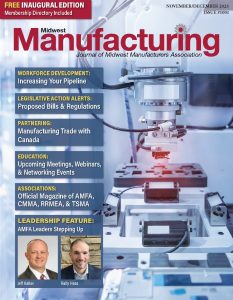 The first issue of the Midwest Manufacturing magazine to be published in late October 2023! This magazine will be a quarterly full-color printed magazine mailed to all members of AMFA, CMMA, RRMEA, and TSMA, as well as most manufacturers in the Midwest.
Central Minnesota Manufacturing Month sponsorship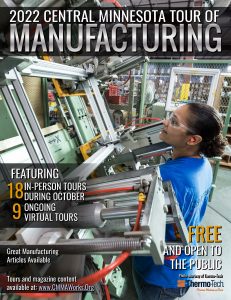 Minnesota is once again celebrating October as Manufacturing Month. CMMA has built a strong month of activities and events with our partners, manufacturers, schools, and communities by exhibiting and marketing the opportunities in the high-tech world of modern manufacturing. A virtual magazine will be published again in 2023.
2023 Sponsorship Packages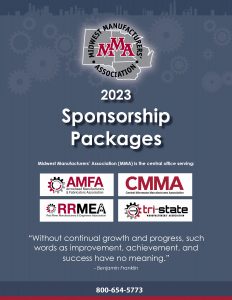 Starting at low as $114/mo.
Our sponsorship packages provide greater value for your marketing dollars because we bundle a host of benefits that get your business recognized as a valued partner of our four manufacturing associations; AMFA, CMMA, RRMEA, and TSMA. Market your company to one, two, three or all four associations; you decide!
We have two levels of sponsorship packages:
1. MMA Packages - reach all 490+ members of all four manufacturing associations: AMFA, CMMA, RRMEA, and TSMA.
2. Association Packages - reach the entire membership of ONE association.
Click for 2023 Sponsorship Package information
Meeting and event sponsorships
In-person meeting and event sponsorships are a great way to reach audiences at AMFA, CMMA, RRMEA, or TSMA meeting events.
Meeting sponsorship includes five minutes of "mic time" at the meeting to promote your company, products, or services. You may also place literature, swag, etc on each place setting at the meeting. Your company logo will be included in the meeting announcements including emails blasts, website and social media.
Event sponsorship is available for the annual golf socials, Beverage tasting and other fundraisers.
Contact Alisa for more information.