Celebrating manufacturing in Minnesota - October 2022
Minnesota is once again celebrating October as Manufacturing Month. CMMA has built a strong month of activities and events with our partners, manufacturers, schools, and communities by exhibiting and marketing the opportunities in the high-tech world of modern manufacturing. Click the magazine to learn more. CMMA
When planning or marketing your own manufacturing events or activities on social media, please use "#MNManufacturingMonth" to make it easier for those interested to find your information.
Click the magazine below to browse events and information on the 2022 Central Minnesota Tour of Manufacturing.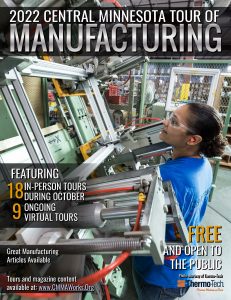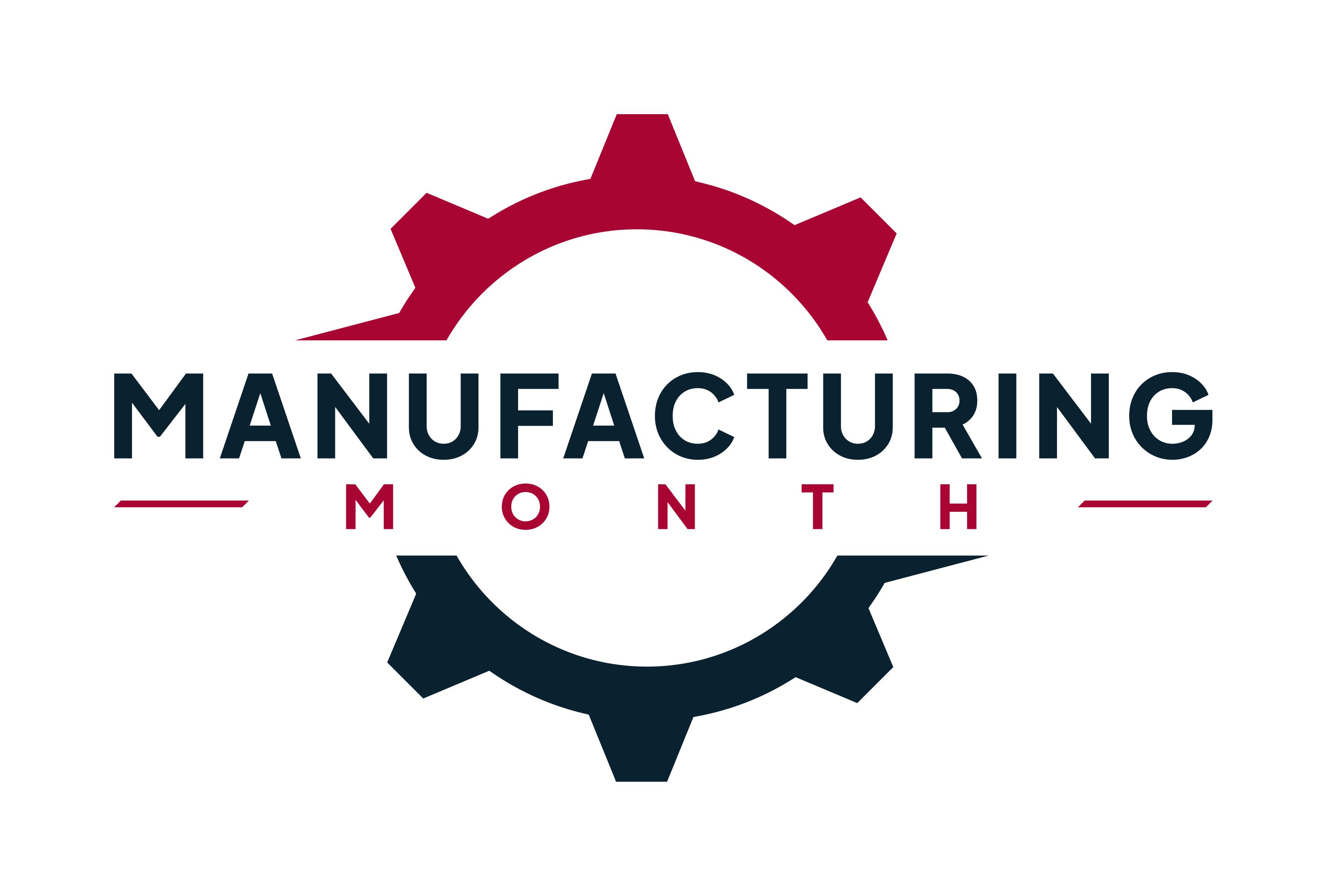 How can I participate in Manufacturing Month?
Manufacturers can offer in-person or virtual tours; reach out to local schools and offer presentations about manufacturing career pathways; sponsor school's VEX Robotics programs; or set up scholarships with local colleges.
Schools can reach out to local manufacturers to request personalized tours for their teachers and students; ask local businesses for swag or materials to do manufacturing projects in their classrooms; and help students understand the successful career pathways available in manufacturing.
Chambers and community leaders can recognize local manufacturers by highlighting their local companies and debunking manufacturing myths in their newspapers and on social media sites; have a luncheon for local manufacturer recognizing their contributions to the community; offer proclamation certificates to their local manufacturers.
Thank you to our 2022 Central Minnesota Manufacturing Month Sponsors
Rotochopper
ichor
DCI, Inc.
Ridgewater College
Southwest Initiative Foundation
Xcel Energy
Manufacturers Alliance
St. Cloud State University
BerganKDV
Chisago County HRA-EDA
Falcon National Bank
GPS 45:93
Kandiyohi County & City of Willmar EDC
Mahowald Insurance
Wright County Extension Development Partnership
Central Minnesota Tour of Manufacturing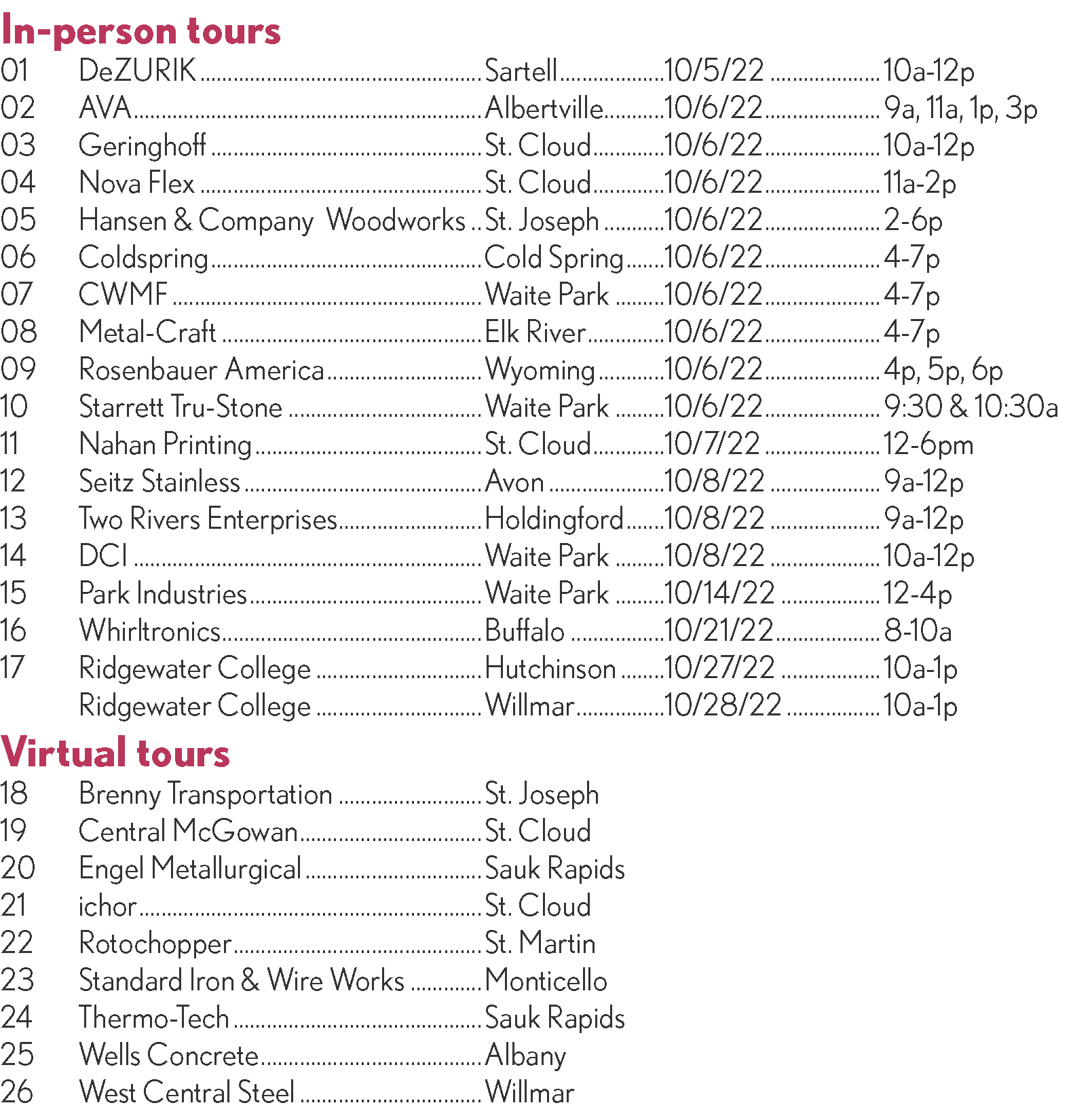 Welding Discovery Day
October 6, 2022 • 4:00-7:00pm • St. Cloud Technical and Community College
Learn about the high-demand, world of welding in this FREE 3-hour information session!
Welding job requirements for various welding positions
Abundant job openings, great wages, company perks from local employers
Insight and advice from local welders
Test out the welding tools, equipment, and safety gear
Get all your questions answered…see if welding is the right career fit!
For more information, contact Jackie at Career Solutions: jackie.bellfield@csjobs.org
Location: 1542 Northway Drive, St. Cloud Park in Lot D, Enter Door #10, Start in Welding Lab: 1-367 & moving to Classroom 1-377.
On-site Hiring Event
October 11, 2022 • 10:00am-12:00pm
CareerForce Center, St. Cloud, MN
Employment-Based Training for Manufacturers --- An introduction to Registered Apprenticeship, Minnesota Dual-Training Pipeline and Youth Skills Training
October 12, 2022 • 9:00-10:00am • Online
Help us celebrate Manufacturing Month and join Minnesota Department of Labor and Industry for a virtual session and overview of employment-based training programs of registered apprenticeship, Minnesota Dual-Training Pipeline and Youth Skills Training.  DLI representatives will share information on all three earn-and-learn programs and discuss how combining on-the-job training with related instruction can help attract and recruit talent in manufacturing.  Attendees will learn how to help meet their workforce needs through registered apprenticeship and Minnesota Dual-Training Pipeline as well as how to create excellent opportunities for career exposure and career pathways for 16- and 17-year-old high school students interested in manufacturing through Youth Skills Training.   Register
Minnesota Job Skills Partnership (MJSP) Grant Overview
October 18, 2022 • 10:00-11:00am • Online
The Minnesota Job Skills Partnership offers grants through a variety of programs to offset training-related expenses incurred by business, industry, and educational institutions to meet current and future workforce needs. Join us for an overview of the grant opportunities available through these programs.
Learn more about the following programs:
- Partnership Program: Minnesota participating businesses must partner with an accredited Minnesota educational institution. Grants of up to $400,000 are awarded to the educational institution to develop and deliver custom training specific to business needs.
- Pathways Program: The Pathways program focuses on providing training, new jobs and career paths for people who have incomes at or below 200% of the federal poverty guidelines or those who are making a transition from public assistance to work. Projects must include at least one participating business and an accredited Minnesota educational institution or training provider. Grants of up to $400,000 per project may be awarded to develop and deliver training specific to business needs.
- Job Training Incentive Program (JTIP): This program provides grants to new or expanding businesses located in Greater Minnesota for the purposes of training workers as quickly and efficiently as possible. Grants of up to $200,000 are awarded to eligible businesses to provide training for new jobs.
- Automation Training Incentive Program: This program provides grants to small businesses for the purpose of training existing workers on new automation technology. Grants of up to $35,000 are available to small businesses in the manufacturing or skilled production industry for the express purpose of training incumbent workers as quickly and effectively as possible on new automation technology.
- Low Income Worker Training Program: This program helps workers whose incomes are at or below 200% of the federal poverty guidelines gain new skills necessary to move up the career ladder to higher paying jobs and greater economic self-sufficiency. The program provides grants of up to $200,000 to Minnesota public, private, or nonprofit entities that provide employment services to low-income individuals.
For general questions and accommodation requests, please email: della.ludwig@state.mn.us.   If you have any issues registering, please try using Google Chrome.
This event will be recorded and will be made available for viewing after the event to those who registered. Register.
On-site Job Fair
October 20, 2022 • 10:00am-12:00am • Central Minnesota Jobs and Training Services, Inc. (CMJTS), Monticello
Employers and job seekers can contact Tim Zipoy at CMJTS for details.
Cool Jobs Tour - What Manufacturing Really Looks Like
October 27, 2022 • 4:00-7:30pm • Elk River, MN
Open to middle and high school students and their guardians, as well as community members.
Tour local manufacturers and see for yourself the variety of career opportunities, the pathway to building skills, and modern manufacturing. Choose two tours from: Elk River Machine Co., CDI or TimRon Precision Gear. The final tour starts at 6 pm at Metal Craft Machine & Engineering, Inc.  Register
CTE Jamboree
November 17, 2022 • 7:15-11:00am • St. Michael Albertville School
CMMA is excited to sponsor the 3rd annual central Minnesota CTE Jamboree. This is an effort to bridge the gap between education and the manufacturing industry as we build stronger career pathways by developing student training and apprenticeship opportunities through Career Technical Education (CTE) pathways for high school students. We invite school board members, superintendents, principals, counselors, CTE Teachers, manufacturers, and community leaders to hear about the thriving CTE initiatives in our state. The format will allow local manufacturers and educators to interact and vision programs to expand on the CTE focus that is taking place in education right now. Tours of will also be available. Information and registration.