Celebrating Manufacturing in Minnesota - October 2021
This year, Minnesota will celebrate October as Manufacturing Month – a change from the week-long celebration in year's past. Our goal is to build a strong Manufacturing Month of activities and events with our partners, manufacturers, schools, and communities by exhibiting and marketing the opportunities in the high-tech world of modern manufacturing.
When planning or marketing your own manufacturing events or activities on social media, please use "#MNManufacturingMonth" to make it easier for those interested to find your information.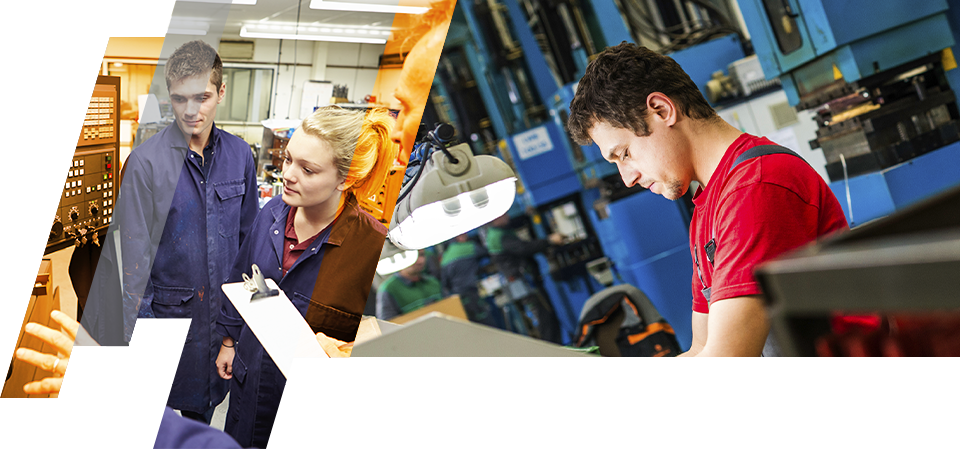 How can I participate in Manufacturing Month?
Manufacturers can offer in-person or virtual tours; reach out to local schools and offer presentations about manufacturing career pathways; sponsor school's VEX Robotics programs; or set up scholarships with local colleges.
Schools can reach out to local manufacturers to request personalized tours for their teachers and students; ask local businesses for swag or materials to do manufacturing projects in their classrooms; and help students understand the successful career pathways available in manufacturing.
Chambers and community leaders can recognize local manufacturers by highlighting their local companies and debunking manufacturing myths in their newspapers and on social media sites; have a luncheon for local manufacturer recognizing their contributions to the community; offer proclamation certificates to their local manufacturers.
Tour of Manufacturing
The month will include tours of area manufacturers and will feature both in-person and virtual tours. Learn how to host, register, attend, or sponsor a tour at: Minnesota Manufactured.  For more information and details on Manufacturing Month, visit DEED's CareerForce.
Workforce Wednesday: Diversifying Your Workforce
October 6 • 11:00am - 12:00pm • Virtual
Join the Minnesota Department of Employment and Economic Development (DEED) Workforce Strategy Consultant team on October 6 to celebrate manufacturing month. Currently over 60% of the manufacturing workforce are white males. This virtual meeting will focus on highlighting proven strategies to build talent pipelines; hearing and sharing best practices; and networking with other Minnesota employers about diversifying your workforce.  Register.
Manufacturing 101: Developing Youth Skills Training and Apprenticeship Opportunities 
October 7 • 9:00 - 10:30am • Virtual
Join the Minnesota Department of Labor and Industry (DLI) to learn the basics of building an apprenticeship program and employment-based training; share tips and advice about how to set up a dual-training initiative at your company; and develop resources from the Pipeline team to support on-the-job training and partnerships with education.  Register.
Overview of the MN Job Skills Partnership Programs (MJSP), Job Training Incentive Program (JTIP), and Automation Training Incentive Program (ATIP)
October 13 •  10:00 - 11:00am • Virtual
Learn about the Minnesota Department of Employment and Economic Development (DEED) grants that are available through a variety of programs to offset training-related expenses incurred by business, industry, nonprofit organizations and educational institutions to meet current and future workforce needs. Register.

List of events for the Iron Range and Duluth/Superior areas TBD

Elk River Area Schools Cool Jobs Tour
October 12 • Time & Location TBD
Today's manufacturing careers are about advanced technologies, state-of-the-art facilities, and fast-paced interesting work environments. Join us to tour local manufacturers and automotive businesses and see for yourself the variety of career opportunities available at local companies; pathways to building the knowledge and skills needed to qualify for today's manufacturing jobs; purpose and value of the modern manufacturing companies located in our community. This evening of career exploration is set up for community members, middle and high school students and parents. It will start with a light dinner, followed by information on careers, training, wages, and opportunities. For more information contact Amy Lord, CTE Coordinator at ISD #728 Elk River Area Schools.  amy.lord@isd728.org
Manufacturing CTE Jamboree
October 21 • 7:30 - 11:00am • ROCORI High School
CMMA is excited to sponsor the 2nd annual central Minnesota CTE Jamboree. This is an effort to bridge the gap between education and the manufacturing industry as we build stronger career pathways by developing student training and apprenticeship opportunities through Career Technical Education (CTE) pathways for high school students. We invite school board members, superintendents, principals, counselors, CTE Teachers, manufacturers, and community leaders to hear about the thriving CTE initiatives in our state. The format will allow local manufacturers and educators to interact and vision programs to expand on the CTE focus that is taking place in education right now. Tours of Coldspring, leading bronze manufacturer, natural stone fabricator, and quarrier of all types of natural stone in North America, will also be available.  Register.
Manufacturers Career Fair
October 21 • Time TBD • Monticello
Central Minnesota Jobs & Training Services, Inc. will be hosting manufacturing-focused Career Fair in Monticello. For more information, contact Tim Zipoy at tzipoy@cmjts.org.

List of events for the Alexandria, Fergus Falls and Wahpeton areas TBD